Because your satisfaction is our priority
Do you travel often? To welcome you and reward your loyalty, we have created several programs so that there is always one that fits your needs.
Discounted rate and Voyager card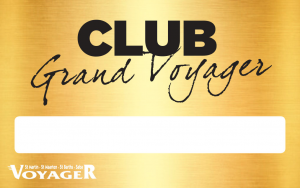 E-ticket books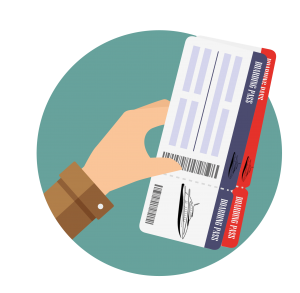 The subscription options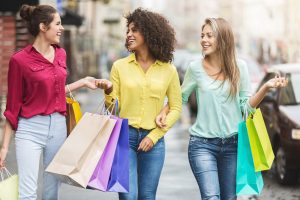 Discounted rate and Voyager card: travel more for less money!
First of all, it should be noted that the reduced fare was created in 1995 by Voyager, which wanted to create a special fare to support the local economy, but unlike other areas, it is done without public assistance.
 
To obtain the reduced fare, each passenger (12 years and older) must meet the following two conditions

– Book in advance (at least the day before),
– Be able to show at check-in : his/her Voyager card or prove his/her address in St Martin/St Maarten or St Barth, by presenting the following documents in his/her name: :
* Identity card or passport
* Driver's license or car registration
* Proof of income from taxes, social security or employment

Other documents do not qualify for a reduced rate.
 
Each traveler must be able to justify at the time of departure the conditions required to benefit from the reduced fare, even in the case of a group or family.

Don't forget to ask for your Voyager loyalty card so that you don't have to show your official receipts the next time you travel and to benefit from the other advantages of this loyalty card (free ticket)

Those who have chosen a discounted fare but cannot prove at the time of departure that they qualify for the special fare will have to pay the difference between the discounted fare and the normal fare purchased at the last minute (which is not advantageous). It is therefore recommended that you choose the normal fare directly (with a discount if you book in advance) if you do not qualify for the reduced fare (check at check-in).

If you plan to travel again, consider applying for the Voyager Card (no expiration date)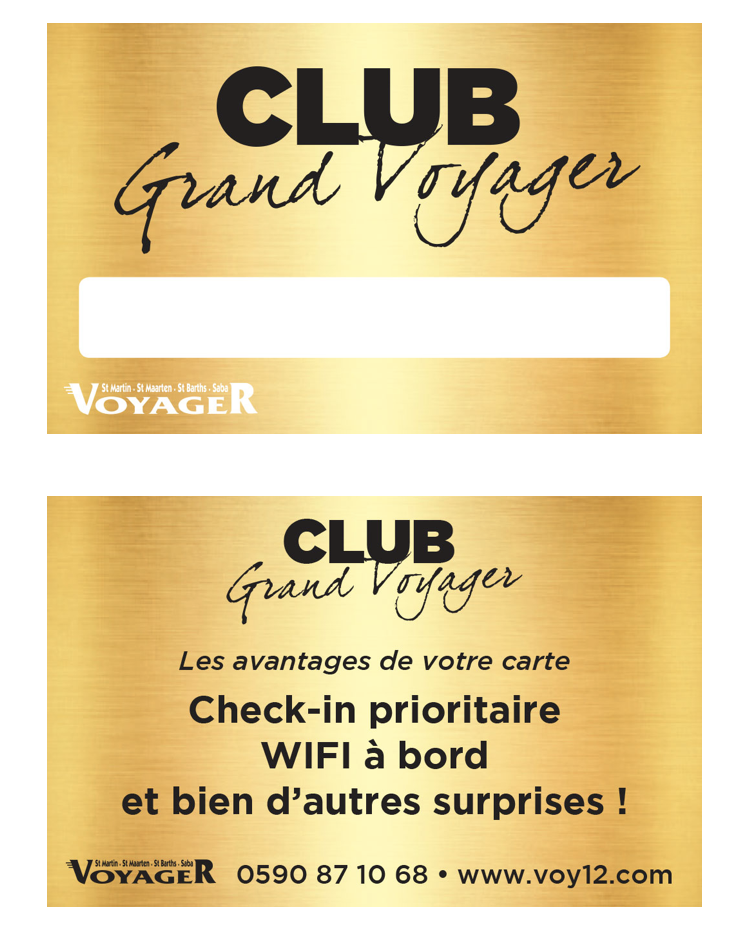 The loyalty card is for all those who travel occasionally or who prefer to pay for their ticket with each trip.

With your loyalty card, you'll benefit from advantages and good deals all along the line!
You benefit from discounts when you book in advance, up to 40% off the normal fare!

Voyager offers you one free return trip per year, after 5 return trips validated on your card.
You can get other benefits such as a special fare for your family and friends.

Additional information about the Voyager loyalty card:
The Voyager card, which is normally subject to a fee, is offered to all travelers who request it on their first trip at the normal fare.

Each Traveler must validate his or her loyalty card at the time of check-in for each round trip.
Each Voyager card is personal.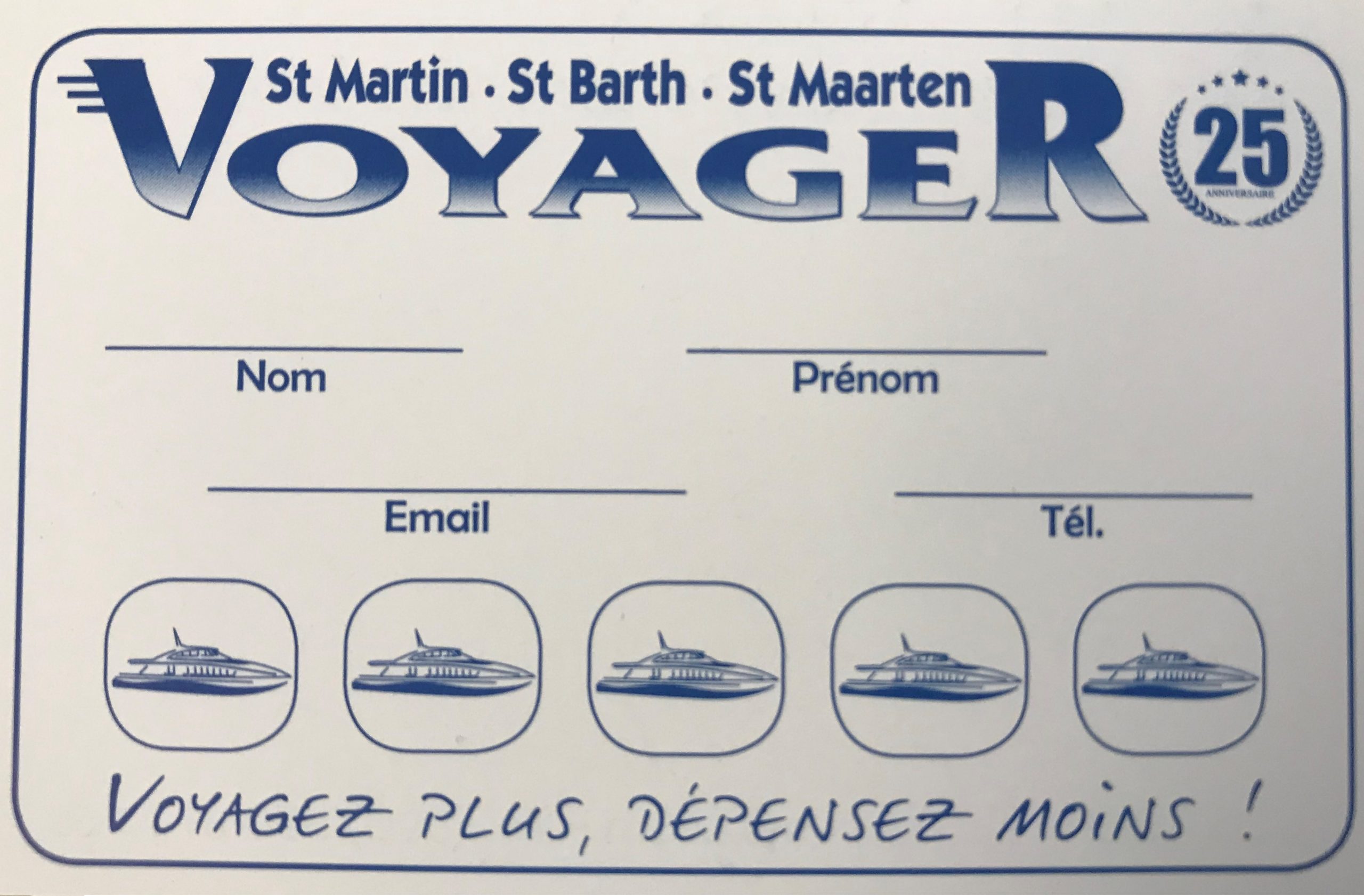 E-ticket e-coupons: preferential rates and exclusive advantages!
Do you travel ofter between St Martin and St Barth for personal or professional reasons? Voyager ferry team makes proposals for you with the right plan: the Voyages Frequency ticket ecoupons!
Valid from 12 or 18 months, for companies and individuals passengers, in variable numbers (from 5 to more than 100 round trips!), these easy-to-use ticket e-coupons are perfect for all your trips, with very competitive fares!
 
Voyages-Fréquence ticket e-coupons advantages:
  – You get discounts, which can be up to more than 50% of the normal fare!
– Choose your personalized e-coupons formula: from 10 one-way tickets to more than 200 one way trips…
– In the event that number of remaining places is reduced, holders of ticket e-coupons have priority.
– You can use your 10 one-way trips 10 times in the same direction, or as 5 round trips, you decide!
– Modification or cancellation fees are free
– You do not need to travel to buy your ticket, nor to make a payment for each trip
– Your tickets can be dematerialized: no more risk of losing them! If you prefer to receive your tickets physically, no problem! In this case, you manage your tickets by yourself.
– Additional information on Voyage-Fréquence ticket e-coupons:
There is a version of non-nominative tickets for companies, with special rates and special conditions.
 
Don't forget to book your place: you can simply do so by telephone on 0590 87 10 68) or even directly on our website.
100% payment is required before ticket e-coupons are issued.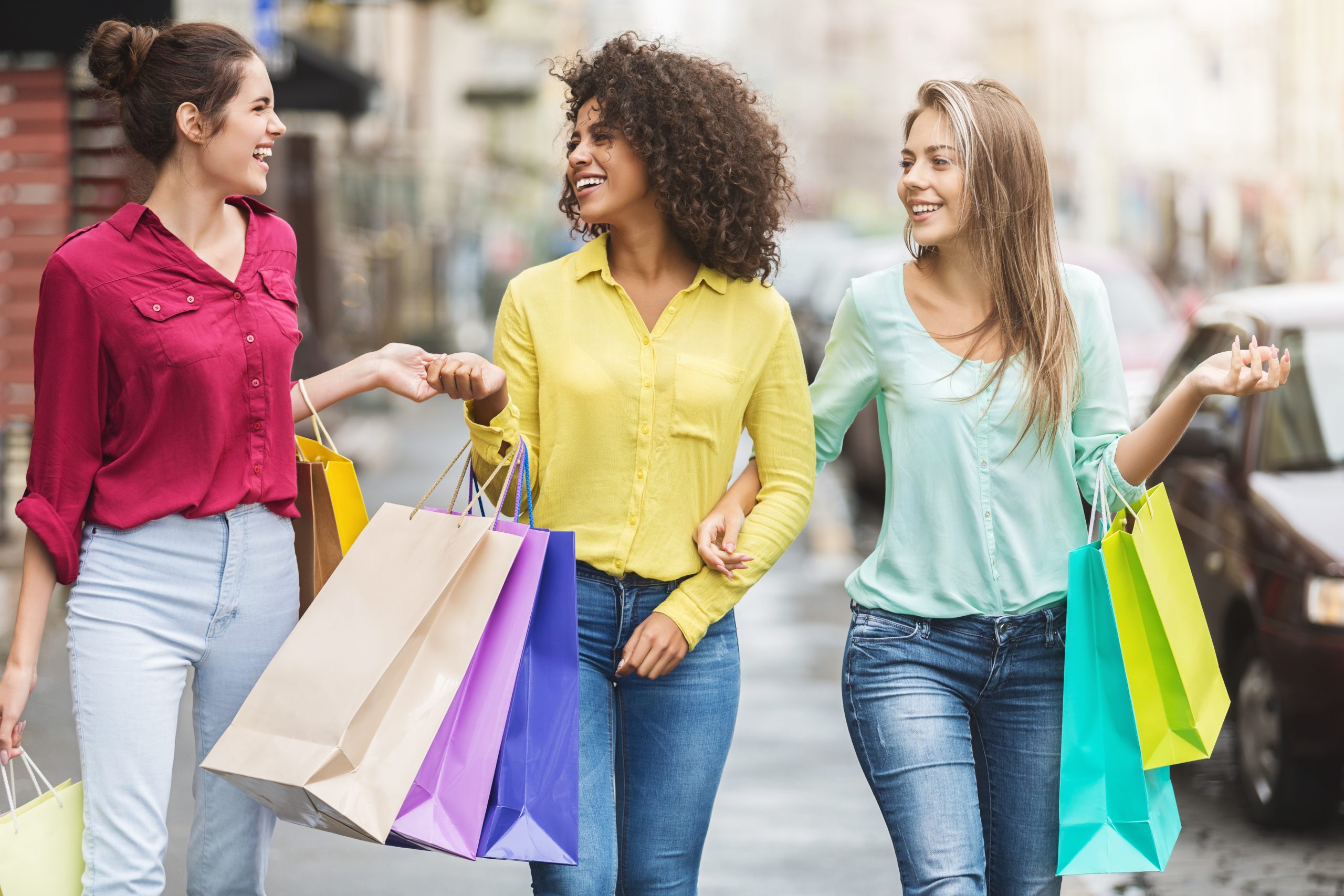 Our Subscriptions
Unlimited packages or special proposals made for you… Simply contact us!