FREQUENTLY ASKED QUESTIONS – FAQ

FIND ALL THE ANSWERS TO YOUR QUESTIONS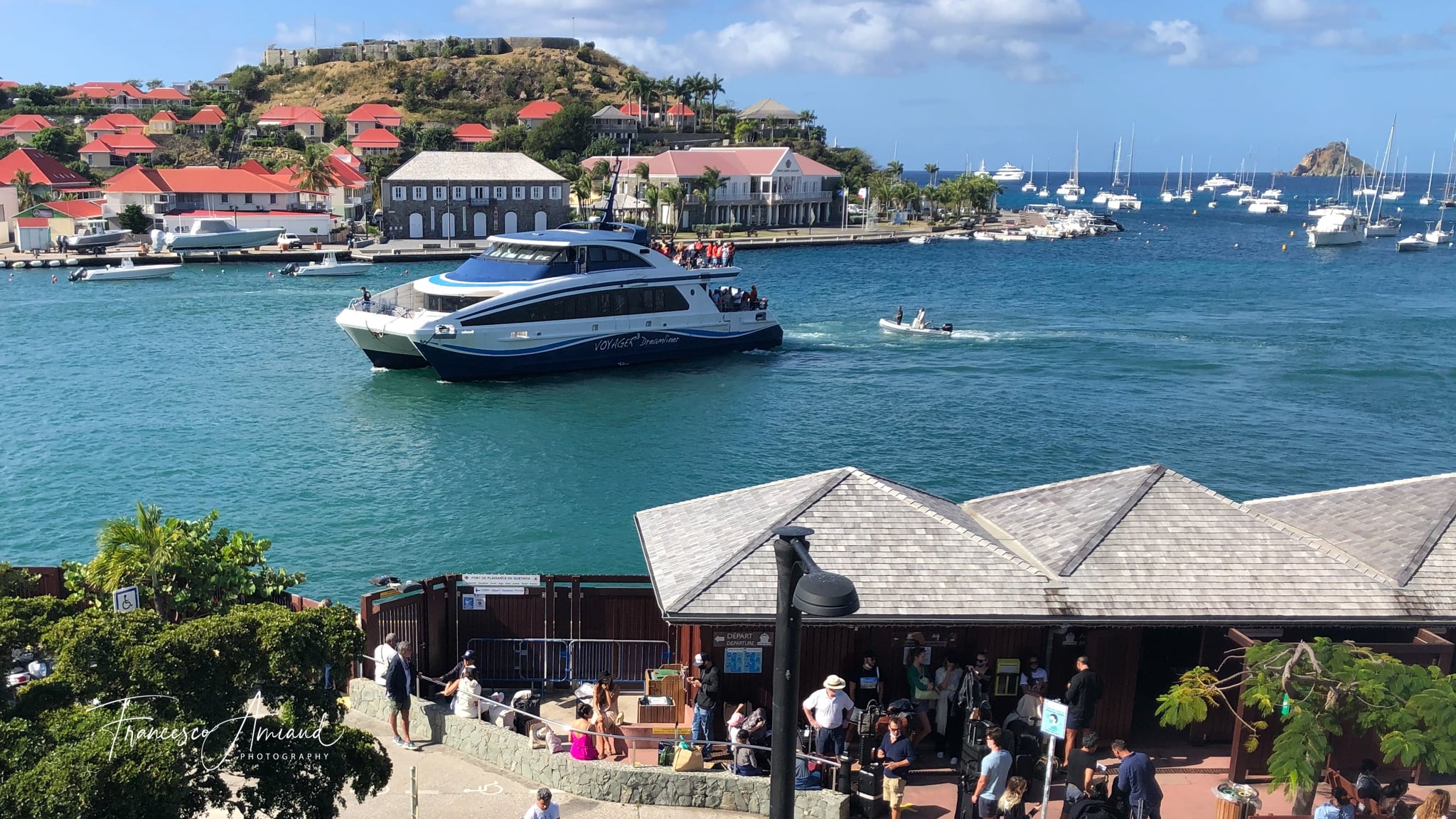 Health restrictions & Immigration laws
Destinations, schedule and fares
Which are our destinations?
What can I do in St Barth?
St Barths is the most beautiful excursion around th island of St Martin: nice visit, duty free shopping and 22 white sand beaches are on the program!

Discover all the activities to do in St Barths here
What is the schedule of the ferry and how long is the trip?
As schedules may change depending on the day and period, all you have to do is make an online booking request, specifying the port of departure and arrival, as well as the travel dates. We will show you all available departure and arrival times with the duration of the trip!

The travel time indicated corresponds to the time the ferry passes the departure buoy to the arrival buoy (allow a few more minutes for the arrival channel, the docking maneuver, the disembarkation of the boat and passing immigration control), and may vary depending on the weather, port authorities, etc…
Where do I get the rates?
Simply make an online booking request specifying the port of departure and arrival, as well as the dates of travel. We will show you all the schedules with the available rates. All our rates include taxes and free drinks on board.

Book online!
How can I get a special reduced fare?
All passengers can get discount fares by booking in advance.

Obtaining a discounted fare is subject for each traveler (aged 12 and over) to the following 2 conditions:
– Book in advance (at least the day before)
– Be able during check-out:
– To show their Voyager loyalty card,
– Or to justify his address in St Martin/St Maarten or St Barth, by presenting the following documents in his name: Identity card or passport or driving license, car registration document, proof from Taxes, Social Security or Pôle Emploi
Other supporting documents are not accepted.

En savoir +
What are the advantages of the Voyager loyalty card?
The loyalty card is for all those who travel occasionally or who prefer to pay for their ticket with each trip.
With your loyalty card, you'll benefit from advantages and good deals all along the line!

You benefit from discounts when you book in advance, up to 40% off the normal fare!
Voyager offers you one free return trip per year, after 5 validated return trips on your loyalty card.
You can obtain the Voyager loyalty card under certain conditions:
    – by showing some proof of residence in St Martin, St Maarten or St Barth (precise list of accepted documents: identity card or passport or driving license, car registration document, proof from the Tax Office, Social Security or Pôle emploi,
    – by paying the normal fare and asking for the Voyager card at check-in

I travel very often. Why should I buy a book of tickets (E-coupons or Voyage Frequence)?
Book of tickets or Voyage Frequence tickets or E-coupons are for all those who travel often!

These E-coupons are the cheapest, easy to use (modifiable at no cost) and can even be dematerialized! Please note that the use of these tickets (which also concern companies) is subject to conditions. To find out which package suits you best for your way of travelling, contact us!
Get information and prepare my ferry trip
Where are the (departure /arrival) ports?
Don't forget to check the port of departure or arrival (several possible ports in St Martin) when you make your booking. Check our ports

MARIGOT, ST MARTIN
Located on the waterfront in Marigot (ferry terminal), at only 15 minutes from the airport

GUSTAVIA, ST BARTH
There is only one port in St Barth. Ferry temrinal is located in the center of the main town (Gustavia), very close from Taxi station.


CAR PARK – is there free parking or taxis station near the port?
Several car parks are available at the port of St Martin Marigot (for free) or at the port of Saint Barthélemy Gustavia (paying park).

Taxis are easily available at the SXM Marigot or SBH Gustavia ferry terminals.

More info at the port in this link
CHECK-IN and BOARDING – At what time should I present myself for check-in and boarding? What documents do I need to show?
We do our best everyday to leave on time.
Knowing the timetables, arriving in advance and respecting them allows you to travel in complete peace of mind. In case of doubt, the ferry Company therefore strongly recommends that Passengers inquire beforehand before any departure to check the check-in and boarding deadlines, as well as the ports of departure and arrival.

Registration (check-in) is mandatory and generally begins one hour before departure. Unless otherwise specified, the passenger must have completed the check-in procedure and be ready to board at least 20 minutes before departure.
If this deadline has not been respected, reservations will no longer have priority and passengers may no longer be accepted on board and their seats sold.

In order to obtain their boarding pass at check-in, passengers must present at the Company counter provided for this purpose their possible reservation as well as their valid identity documents and health documents in accordance with the rules in force. As each passenger is responsible for traveling with the necessary documents, it is advisable to check your documents in advance.

After check-in, we recommend that all passengers go directly to the boarding lounge with their boarding pass. Unless otherwise specified, boarding ends 20 minutes before departure. Passengers who have not respected this deadline may not be accepted on board.

More info

PREGNANT WOMEN and people requiring special assistance
In our ferry company everyone is welcome on board in accordance with the Company's own rules. The company recommends that passengers requiring special assistance notify us in advance and consult their doctor before departure.

Are concerned in particular:
– Unaccompanied children
– Passengers with reduced mobility
– Pregnant women
– Sick people
– All other people requiring special assistance

For more information , please contact us in advance
CHILDREN and BABIES – I would like to book for a child or baby. Can they travel without the parents? Do they have to travel with ID?
Children under 12 benefit from a reduced rate, and infants under 2 years old are transported free of charge.

MINOR CHILD TRAVELING WITH HIS PARENTS
A minor traveling in the company of his parents or a person vested with parental authority must be in possession of a valid identity document or passport bearing the name of the minor.

MINOR CHILD TRAVELING ALONE OR WITH A THIRD PARTY
Minor children can travel alone without accompaniment from the age of 6, subject to obtaining the prior agreement of the ferry company, and be in possession of his valid nominative passport.




PETS – Can I travel with my pets? What document should I bring?

There are several steps to taking your pet aboard but, once you've got everything planned, it's simpler than you might think because in our ferry company, we love pets!

This is why dogs and cats can travel for free (with their box) on our 2 outdoor decks (no pets allowed in closed cabin) . Sorry, other animals are not accepted on board.

Dogs must be muzzled when outside of a bag or box (agressive dogs must stay in their box).

Even if the ferry company will not ask any pet travel documentation, please check in advance entry pet restrictions when travelling with your pet in order to make sure to have all necessary document

LUGGAGE – What luggage is allowed? Can I travel with merchandise?
Each passenger is allowed to travel with at least 2 suitcases. It is the booking class that tells you how many suitcases you can carry. Surfboards are carried free of charge.

If you are traveling with numerous, bulky, heavy objects, or of a nature other than your personal effects, we advise you to consult our Company before making your trip, to find out if their transport will be authorized.

Check at luggage in this link
VEHICLES & BIKES – Can I travel with a vehicle or bicycle?
Sorry but carriage of motor vehicles is not permitted on board our ferry,

You can bring your bike on board by adding this option in your booking (after filling in the ferry passenger details).
AIRPORT BUS SHUTTLES – How can I book my bus shuttle to or from the airport?
Our ferry company makes proposals on certain departures (as an additional service to your ferry trip), air-conditioned bus shuttles between the airport and the port of your ferry (or vice versa) to help you connect more easily between your plane and your ferry.

More info
INSURANCE – Is insurance required on board?
No insurance is included in the services offered by the Company. Passengers must therefore ensure that they are covered by their insurance in terms of civil liability or personal insurance.

The ferry Company draws Passengers' attention to the importance of taking out appropriate insurance to cover possible risks, in particular baggage and goods (for example in the case of precious goods transported), or delays, changes and cancellations.

More info at insurance in this link
YOUR FERRY: how many seats are available? What are the comfort or safety equipments?
With its aluminum hulls specially designed for the greatest comfort of passengers, M/V Voyager3 Dreamliner ferry is the latest generation hydrofoil catamaran, manufactured in France (Bordeaux) for the Voyager ferries.

Thanks to its foil system (wings located under the hulls which lift the boat to limit the impact of the waves), this very stylish catamaran has been custom-designed for optimal passage in the Caribbean Sea!

Originally planned for 230 passengers, its total capacity has been reduced to 164 seats for more space and comfort!

Conviviality is indeed at the rendezvous on board M/V Voyager3 Dreamliner ferry.
The seats in the 2 air-conditioned cabins on the main deck are cleverly arranged so that you can enjoy the sea, your friends or the audio-video system available on board at the same time. On the aft deck, there are 3 toilets (including 1 toilet for disabled people) and luggage storage. Finally, you will find the bar, open to the open air, just like the upper deck, for a more relaxed atmosphere.

Finally, you can enjoy great comfort in the Business Class cabin located on the upper deck, with its 8 large reclining seats, in a 30m2 panoramic lounge, as well as many personalized services on board (high-speed internet, tablet equipped individual charging station for laptop, audio-video system).

Planned above all for your pleasure, you will be able to move freely between the various lounges and the two exterior decks, while enjoying the cold drinks offered on board for all passengers by the Company! You are permitted to smoke aft of the outer lower decks.
In terms of safety, M/V Voyager3 Dreamliner has the best standards related to the issuance of the French flag (white flag), and is equipped in particular with life jackets and 2 life rafts with 100 places (200 places in total) whose locations are clearly indicated at edge. For any questions, consult and follow the instructions of the crew who has been specially trained in safety.

Our ferries
SMOKING – Can I smoke on board?
All enclosed areas of our ferries are non-smoking. Electronic cigarettes are also not permitted in these areas. 
Passengers may still smoke on lour main outdoor deck (at the back)
SEASICKNESS – Will I get seasick?
Vous avez peur d'avoir le mal de mer à bord ? Pas de panique…

With its well-researched aluminum hulls, Our ferry M/V Voyager3 Dreamliner is a latest generation hydrofoil catamaran. Thanks to its foil system (wings under the hulls which lift the boat to limit the impact of the waves), this cutting edge catamaran was specially designed for optimal passage in the West Indies and the comfort of passengers.

For you, our crew will ensure your safety and will help you if needed.

Although our ferry is designed to provide the best possible comfort, the Caribbean Sea can be restless and we recommend that sensitive people use our anti-seasickness bracelets.

Without side effects, easy to use and reusable, these are no mere gadget – these bracelets are so effective that we promise to refund you their purchase price without discussion if you aren't satisfied!
Our anti-seasickness bracelets are available at all our offices; do not hesitate to ask for them!

Voyager has 10 tips to prevent transport sickness. Click here
ONBOARD SERVICES & ADDITIONAL SERVICES – What are the booking classes and onboard services? Wifi, boarding and disembarking priority, tour packages, etc…
Discover a new travel experience aboard our 3 travel classes adapted to your needs:
– Business Class
– Smart Class
– EcoFlex Class

A cold drink service is offered free of charge for all passengers. The other services on board depend on the booking class you have chosen, such as wifi or priority disembarkation. For more info concerning our travel classes

Additional services such as tour packages, airport shuttles, bicycle transport are offered in our website, if available, just after booking your trip and passenger information. More information concerning airport shuttles, or tour packages


PACKAGES: do you make proposals for tours packages to St Barths?
Voyager has several tour packages to meet your desires and your budget! Check our packages out on our St Barth page


ECOLOGY & VALUE – What are the ferry company's ethics and Ecological responsible values?
Our ethics and our eco-responsible values have been based for years on the conviction that each of us must act at our own level to obtain a global impact on the environment, by integrating the requirements linked to our profession. We expect the teams we work with to share this conviction and to act in accordance with these values, in order to create a relationship of trust with our customers, our suppliers, our partners…

For more info

To book and pay for my booking
Do I have to book in advance or can I buy last minute ticket?
You can buy your ticket on departure but only if the boat is not full, and without any possible discounts. That's why we advise you to book several days in advance to be sure to get a space, and to benefit from our best rates!

How can I book with Voyager ferries?
To book in advance will give you the best fares and you'll be sure to a seat booked for you!

HOW TO BOOK
– In our official website: book online!
– By phone: call us from France on 05 90 87 10 68. From abroad: (590) 590 87 10 68 (from the USA, dial 011 590 590 87 10 68).
– At our offices in St Barth Gustavia or St Martin Marigot

Can we book a ticket with an open date?
yes, you can book with an open date (or without date or open) on the way there, on the way back, or both!

To book online with an open date (click in "no date" or "open"

Book here!
I would like to book for a group or association… Is the ferry available for private charter?
You can find all information about groups and associations here

Do you want to book the whole boat or an entire cabin of the boat, choose your own destination, your schedules, or service? Our boats are scheduled for private charter trips to nearby islands. Contact us for a quick estimate on request.
I'm in the tourism business and would like to make a booking for my customers…
If you book many passengers a year, feel free to contact us!

Alternatively, we suggest you make a reservation as an individual customer. book online!

Why do I have to create an account when booking online? Can I book without creating my account?
Yes, you can book without creating an account.

Interest in booking by creating an account:
– you will not need to fill in your personal information again (they will remain in memory)
– you can go back to your reservation if necessary (especially in the event of a problem with online payment)

When you create an account, you choose your username and password yourself.

Book here!
Are there several classes on board?
On board, you will have the choice between three classes of travel: Business Class, SmartWifi, and Ecoflex. Adapted to your budgets and your desires, make the most of their advantages.
Discover our 3 classes of trips
Does the passenger informations I have to fill when booking have to be correct?
The information you enter must match the information on the IDs that will be requested at check-in. As the tickets are nominative, if the information provided is not correct, the passenger's access may be refused by the ferry company, without the possibility of refund.
How can I pay for my tickets? Can I pay securely on your website?
Booking a ticket on our website is totally secure according to the latest standards in force. You can pay by Visa or Mastercard credit card.

At the end of the booking, you are put in direct and confidential contact with our collection site which manages and controls the payment phase, in agreement with your bank.

In the event of difficulty during payment, you will not be able to make a new reservation on the same departure for the same passengers, for approximately one hour. If necessary, contact us

Book here!
Issues with online booking
When I try to book online I am told that there is already a passenger booked with that name…
You have probably made several booking requests for the same departure for similar passengers in a short time. Your initial reservation will be automatically canceled in the event of non-payment within the hour following the initial request… And you can then make a new request online.

Do not hesitate to contact us if necessary.
What security code is required when paying online?
Your online payment is completely secure and confidential by our collection site, which will be in contact with your bank.

According to the latest standards in force, our collection site may ask your bank for a confirmation code which will be sent to you according to your agreement with your bank (message to your phone, bank application, etc.). You will then be asked for this code by our collection site to validate the payment and confirm the booking!

Book here!
I can't pay for my booking…
Your online payment is completely secure and confidential by our collection site, which should ask you for a code sent by your bank. All it takes is an internet outage for a moment to prevent the payment from going through…

If you have opened an account, go back to your account, then to your reservation and try to pay again.
Failing success, contact us as soon as possible to confirm your reservation (which will be canceled automatically within an hour if payment is not confirmed)

I have not received my booking confirmation email
If you do not receive your confirmation email, here are the most common causes:
– The email has been classified as spam, or rejected by your service provider
– The email address was not filled in correctly
– The payment has not been definitively confirmed

Our advice: Contact us if you do not receive your booking confirmation email with either the booking number that appeared on the screen, or the dates and times of travel with your name
To modify and cancel a booking
How can I change/ amend my ferry booking?
We offer a range of ticket types that allow you to choose the level of flexibility to suit your travel needs. Depending on your chosen ticket type, the conditions for cancellations and amendments will vary 

Your booking can be generally be modified before departure (date & departure time) and conditions will depend of your class of travel. In order to modify a booking, we need to know your booking number, and date & departure time to modify. Contact us
Can the ferry company change timetables, departure ports?
In accordance with our general conditions of carriage, the company may be required to change its schedules or ports of departure or arrival. In such a case, we will try to notify you as soon as possible and that is why it is important to leave a mobile number (and possibly a landline), as well as an email address where we can reach you before departure or during your trip.
Where can I send my request of cancellation/refund?
We offer a range of ticket types that allow you to choose the level of flexibility to suit your travel needs. Depending on your chosen ticket type, the conditions for cancellations and amendments will vary .

For all request of cancellation or refund, please contact us
How to contact the customer service? How to request a quote for a group, or a special privatized charter?
If you have an association or a special group, or if you need a special service (privatization of a cabin or chartering the entire ferry), contact us by giving us as much information as possible (dates and times envisaged, number of people planned, number of children under 12 and adults, special service required, your contact details, etc…) to be able to give you a quick and detailed quote

I would like to make a suggestion, a comment, a complain… Submit an application
How do I get an invoice?
If you need an invoice, contact us with your reservation number and email address
Do you need more info?
Simply contact us by email or Whatsapp!