Other paradises nearby
The only two islands served daily by Voyager are the islands of St Martin and St Barth, but exceptional excursions can be occasionally organized to the islands of Pinel, Tintamarre, Anguilla, Saba, St Eustatius or St Kitts… Please note that there is no regular ferry link between Guadeloupe and the islands of St Martin (or St Barth).

To know the dates and destinations of the exceptional excursions, contact us!



Saba, The Unspoiled Queen
Only 49km from St Martin, Saba is a volcanic island of 13 km2, populated by 1600 inhabitants known for their warm welcome.
The island is mainly oriented towards ecotourism due to the absence of beaches, the lushness of its vegetation and its internationally renowned seabed. Saba is a paradise for hikers and divers. You can climb through the lush vegetation to Mount Scenery volcano (887 meters) or dive and discover the beautiful seabed, alternating reefs and lava flows.
The excursion to Saba will seduce nature lovers: Sport or relaxation, choose your program!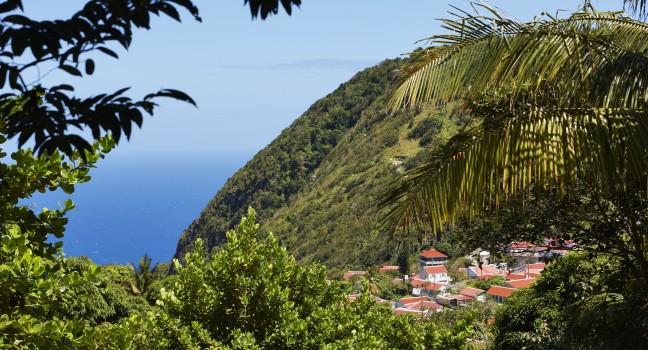 Tintamarre
Tintamarre is an uninhabited island located 3 km north-east of the island of Saint-Martin.
Tintamarre was once inhabited by a Dutchman (Diederik Johannes van Romondt), who set up a small economy based on cotton cultivation and sheep breeding. In the early 1900s, 150 people lived on the island of Tintamarre!
After a slow decline, the island of Tintamarre became an air base for 20 people from 1945 to 1947 (with a 500 meter long dirt runway) under the impetus of the adventurer Rémy de Haenen. Seaplanes could even land in the lagoon of the islet Seu.
Accessible now only by boat, Tintamarre offers beautiful white sandy beaches, transparent and turquoise water (with turtles and dolphins) to people wishing to visit the island for its preserved nature or the vestiges of the past.
Several hiking trails cross the island and allow you to discover the fauna and flora of this beautiful little island.
Pinel
Pinel is a small uninhabited islet only a few hundred meters from St Martin. Accessible by boat (regular shuttle every day from the beach of Cul de sac), kayak or windsurf, you will enjoy a relaxing moment with a magnificent view of St Martin.
Restaurants with tasty menus and aperitifs welcome you during the day, under straw huts with chairs and umbrellas available on the beach. You can explore the island by walking the trails or snorkeling around the island in the nature reserve.
The first view of Pinel that you will have is that of the ideal postcard of the Antilles: in the foreground, beautiful white sand beach and turquoise water, coconut trees at the back of the beach … The place is ideal for families traveling with children and at Voyager, we love to have an aperitif in 50 cm of water … Not to be missed during your stay in St Martin!

St Kitts & Nevis
83 km from St. Martin, Saint Kitts and Nevis are two beautiful islands of volcanic origin.
The smallest country in the Americas has a natural beauty that will appeal to travelers looking for peace and quiet. Two islands comprise this small nation, St. Kitts and Nevis, divided by a narrow strait and bathed by the Caribbean Sea. Both offer dormant volcanoes, tropical rainforests lining golden sandy beaches and the remnants of the colonial era (forts, sugar mills, old buildings). If you go to St Kitts, you should also stop by Nevis where the extreme kindness of the inhabitants will surprise you…